16 Great STEAM Technology Activities For Kids
Fun Technology Activities For Kids
Children are naturally curious, but if you are like me then your little one loves asking lots of questions about how things work. I love technology STEAM activities for kids because they are naturally physically active (building blocks, setting up structures), and I usually have a lot of fun build with our son, Lincoln!
Technology STEAM activities offer a safe environment where he can experiment and follow instructions without the fear of failing in public. I love taking working with our little one to recognize patterns and build his patience, which will help him grow as a person and build his confidence along the way (who doesn't need more of that?)!
Through trial and error, he can learn how machines work, explore scientific concepts and gain insight into programming languages — all while having fun!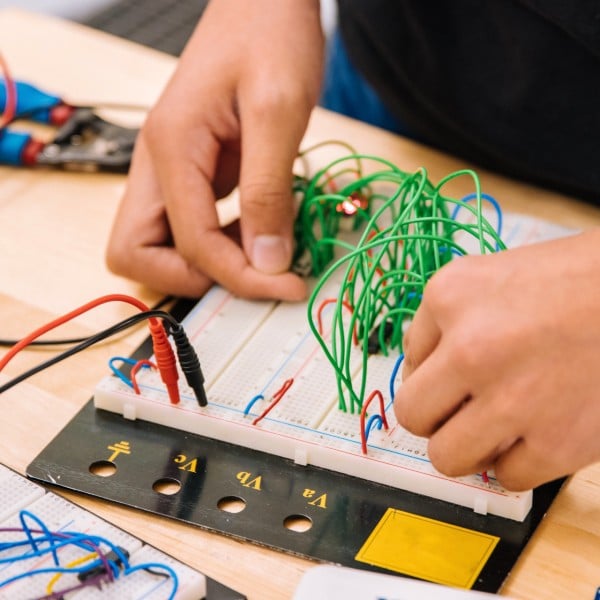 Our Favorite Steam science activities for kids
It can be tough to find STEAM technology activities that your child will love, so I put together a quick list for your convenience below!
What Are STEAM Technology Activities For Kids?
All STEAM activities utilize different elements of science, technology, engineering, and math for kids to solve problems. Technology activities focus on logical sequencing, data collection, and pattern recognition for children to learn how to interact with technology and computers in general.
Technology STEAM projects are great because they usually require minimal setup and cleanup time by using an interactive iPhone or Android app around the house. The best of both worlds- you and your child learn about STEAM technology's principles without all the cleanup of other activities!
I love working with our son on STEAM technology projects to help Lincoln build his confidence with digital skills and even learn a new language… coding!
I am the first to admit that these activities can be overwhelming, but trust me when I tell you that you and your child will have a blast once you start!
What Are The Benefits Of STEAM Technology Activities For My Child?
Technology activities are a great way to get kids interested in engaging with computers, coding, and other digital skills. There are plenty of kid-friendly coding apps and websites out there that can help introduce your child to the basics. You should take a look at a few educational skills:
Logical sequencing: By writing code and putting it together in the right order, they'll learn how to create logical sequences of instructions.
Pattern recognition: Through coding, kids can learn to recognize common patterns in code and develop their problem-solving skills.
Patience: Working with technology can teach kids patience, as coding and debugging often take time.
Data collection and analysis: Kids can use engineering activities to collect data and analyze it. This helps them better understand the world around them.
Familiarity with technology: STEAM Technology activities help kids to become more familiar with computers and other digital tools.
Programming, coding, and design: Kids can practice coding and programming skills with a variety of software and tools. This helps them become more familiar with the design process.
Do you want to find even more educational STEAM activities? From captivating STEAM science experiments to creative STEAM arts projects, hands-on STEAM engineering challenges, and stimulating STEAM math activities, we have it all.
Discover the joy of integrated learning and watch your child thrive as they explore the wonders of science, engineering, arts, and math.
Common STEAM TEchnology FAQs
What is technology STEM activity?
STEAM activities allow children to explore, ask questions and come up with creative solutions. They are designed to help kids use Science, Technology, Engineering Arts, and Math engagingly as they search for answers – often answers that only their ingenuity can conjure!
What is an example of technology in STEAM?
Today, STEAM technology classes allow children to explore a fascinating world of cutting-edge possibilities right at home. From 3D printing and digital modeling systems to programming robots with machine learning capabilities, students can gain valuable skills in developing IoT gadgets and state-of-the-art video games!
What is technology in STEAM for preschoolers?
Through the use of a variety of tools, technology gives children an opportunity to explore and expand their knowledge. Engineering allows them to solve problems by testing different solutions and mechanisms. Lastly, arts can bring out their creative sides with colorful illustrations that help explain concepts in fun new ways!
How does technology support STEAM learning?
STEAM education is more than just computer programming; it employs tools from across the technology spectrum to create meaningful learning experiences. With these resources, students can go beyond passively watching robots in action – they can explore and experiment with them for a deeper understanding of the subject.