On those bustling days, when the laundry piles up and my energetic preschooler bounds home, I sometimes rely on the TV's calming presence.
But instead of just any show, I choose educational science programs.
They captivate, educate, and spark my son's wonder. Moms, with the right resources, we've got this!
What Makes A Good Science Show For Kids?
As moms, we know that not all screen time is created equal. When I first started making a deliberate effort to support my son's educational journey at home, I wondered what does STEAM stand for and what tools can I use to support him?
I was constantly looking for "educational" activities. Still, I realized there is a wide selection of great kid's science shows that can support my son's education outside the classroom. When choosing a science show for our kiddos, we seek something more than flashy animations and catchy tunes.
Instead, I look for science shows for kids that have specific elements like:
Engaging Storytelling: A good science show keeps kids hooked with exciting narratives that make complex ideas feel like fascinating stories.
Age-appropriate Content: The best science shows deliver accurate, bite-sized scientific knowledge that fits your child's understanding and sparks their curiosity.
Interactive Elements: TV shows featuring hands-on science experiments or demonstrations capture kids' attention and make learning memorable.
Respects the Young Audience: Top-tier science shows value children's intelligence, providing explanations that respect their growing minds.
Inspires Imagination: The ideal science show doesn't just share facts; it stirs children's imaginations, encouraging them to question, explore, and discover the world around them.
A quality show will understand its young audience, respect their natural curiosity, and fuel their imagination. Remember these pointers, mommas, while selecting a science show for your tiny Einsteins!
How I Chose These Shows
As a dedicated mom, I scoured every corner of the internet to handpick these shows. I focused on finding the best ones for 3, 4, and 5-year-olds, delving into reviews on Netflix and Amazon Prime Video to gauge how other parents felt about them.
I also did homework on the shows' writers and purposes via their official websites and resources like IMDB. You bet I even watched episodes from each series, with some already being my son's favorites!
I primarily honed in on shows that brilliantly teach STEAM concepts because our little ones are future innovators, right? So, rest assured, these shows have been mom-tested and kiddo-approved!
12 Of The Best Science Shows For Kids To Watch Today
As we have talked about, there are several benefits for you and your child when you turn on the best science shows for kids. If you're ready to transition your little one's screen time into a magical, mind-expanding journey, you're in the right place!
Here's a rundown of the 15 best science shows for kids that are entertaining and wonderfully educational. Let's help their little minds grow and explore!
1. Ada Twist, Scientist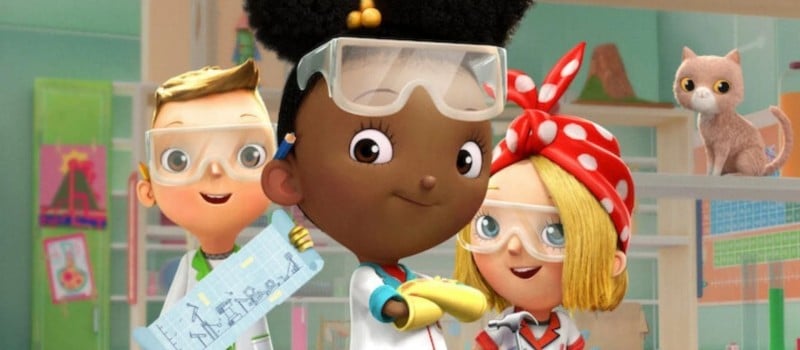 Netflix's enchanting animated series "Ada Twist, Scientist," inspired by Andrea Beaty's beloved picture book, serves as a brilliant springboard for kiddos, petite ladies to dive into the world of STEAM. Ada and her pals Iggy and Rosie stir up curiosity as they unravel intriguing mysteries – be it reviving droopy gardens or cracking the code on erupting volcanoes.
This gem of a series, which debuted in 2021, nurtures curiosity, the spirit of collaboration, and an affection for science. It's a prime pick for us mamas and papas looking for wholesome, brain-boosting screen time for our little ones.
Why I Like This Show
I love seeing the spark in my kiddo's eyes when they watch this show! It's a marvelous mix of adventure and learning, nurturing their curiosity, honing critical thinking skills, and weaving a wonderful tapestry of teamwork – all while lighting up those precious little minds with the magic of STEAM subjects.
What Kids Learn About
Little ones are invited on a thrilling journey of discovery, exploring everything from the secret life of gardens to the fiery heart of volcanoes. They'll get the hang of the scientific method, understand the value of working together, and bask in the enchanting universe of STEAM – all cleverly disguised as captivating tales that they can't help but fall in love with!
Recommended Age
5 years and older
Where To Watch
2. The Magic School Bus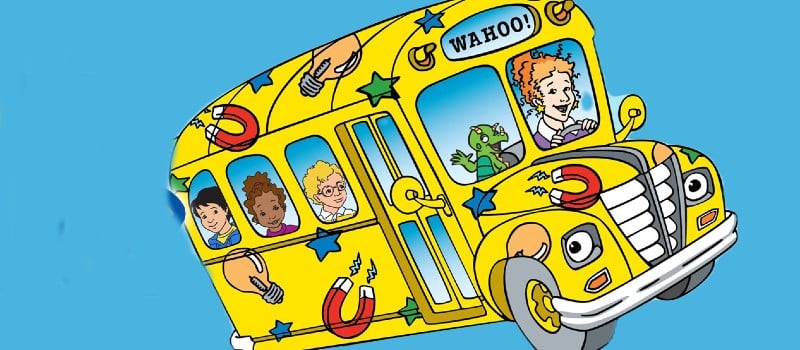 I cherish "The Magic School Bus"! A treasure trove of memories that seamlessly marries learning with laughter. Imagine your kiddos hopping aboard for unforgettable field trips with Ms. Frizzle and her grade four class, spanning the whole gamut from mother nature to our bodies and the dizzying heights of chemistry and physics.
But wait, there's more! Beyond feeding them facts, the series stirs up a sense of joy and amazement. Think whimsical exploits – like shrinking down for a tour inside the human body. What a roller coaster ride of knowledge!
Why I Like This Show
This show is unique because it takes severe science and wraps it in rollicking adventures. It always captivates my little ones while sneakily teaching them something new.
What Kids Learn About
Your little ones will embark on a fun-filled voyage of discovery, exploring everything from biology and physics to chemistry, all through the magic of animated field trips. They'll come to understand our incredible natural world, one whimsical adventure at a time.
Recommended Age
5 years or older
Where To Watch
3. The Magic School Bus Rides Again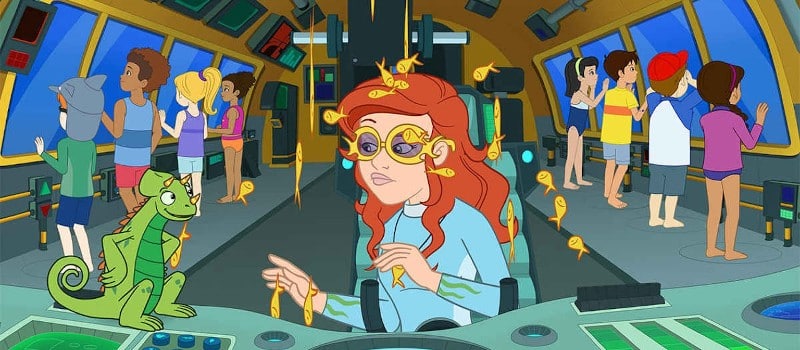 Taking the baton from its iconic predecessor, "The Magic School Bus Rides Again," is a 2017 refresh that brings us more of the magical science journeys we loved. The ever-enthusiastic Ms. Fiona Frizzle is back, guiding her students through time and space, introducing them to strange creatures, alien terrains, and ancient eras. This delightful sequel retains the cherished blend of adventure and science, making it a perfect pick for parents aiming for both education and fun.
Why I Like This Show
This show is my child's joyride! It extends the original's engaging, knowledge-filled charm, inviting young minds into new scientific adventures and enchanting characters.
What Kids Learn About
Embarking on this show's escapades, kids traverse varied scientific vistas, meet intriguing life forms, explore time, and journey through different landscapes. It's a hands-on ticket into the wonders of science, enriching young minds at every twist and turn.
Recommended Age
5 years or older
Where To Watch
4. Earth to Luna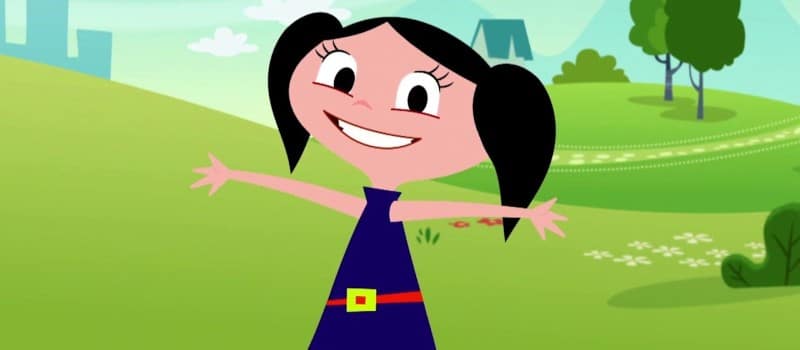 "Earth to Luna" is a charming animated tale from the American-Brazilian collaboration that shadows Luna, a bright-eyed 6-year-old girl, on her scientific adventures. With her little brother and trusty pet tagging along, Luna unravels diverse scientific phenomena, mainly rooted in earth science. What warms my heart about this series is Luna's adorable ritual of sharing her fresh discoveries with her parents as each episode wraps up. This one is a gem for moms and dads scouting for child-friendly, science-centric shows.
Why I Like This Show
I adore this show for my kiddo! It sparks curiosity and promotes exploration, and I love how it invites parents into the learning journey, making those lessons feel more 'real' at home.
What Kids Learn About
Kids get to explore the intriguing world of scientific processes, primarily earth science, through the captivating tales of Luna, her sibling, and their furry companion. They'll see how curiosity opens up a universe of learning about the fascinating world we live in.
Recommended Age
5 years and older
Where To Watch
5. Sid the Science Kid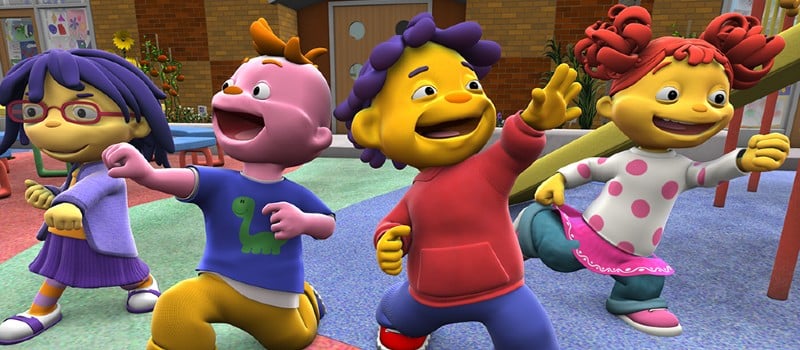 "Sid, the Science Kid" masterfully merges animation and puppetry, creating an irresistible world where preschoolers can meet Sid – a humor-filled little guy who transforms ordinary moments into extraordinary science lessons. Sid's journey through home and school life, endless curiosity, and fun interactions with loved ones are pure gold. For parents on the hunt for the perfect blend of fun and science edutainment for their preschoolers, this show is a gem!
Why I Like This Show
What's not to love? Taking the mundane and sprinkling it with fascinating science facts makes learning feel accessible and exciting for my little one.
What Kids Learn About
Our charming hero, Sid, takes kids on a journey of observation and understanding. They'll see their daily routines mirrored and start looking at the world with a fresh, scientific lens. It's a fun, engaging, and super educational way to see the world!
Recommended Age
2 years and older
Where To Watch
6. Emily's Wonder Lab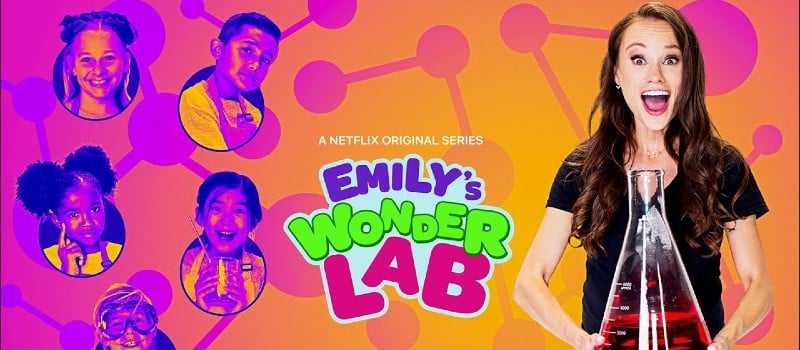 "Emily's Wonder Lab" is a delightful kids' TV show where Emily Calandrelli, our ever-enthusiastic host and science concepts whizz, makes STEM subjects for preschoolers spring to life. Every episode zooms in on a fascinating topic – think electricity, force, motion, even the properties of matter, and uses a playful blend of hands-on activities and science experiments to bring the concepts home. Crafted to be engaging and fun, the show's mission is to get young minds excited about exploring the world around them. It's a top-notch choice for moms and dads seeking a show that combines the best of fun and learning.
Why I Like This Show
I'm thrilled that this educational show uses engaging experiments and playful activities to pique my little one's interest in STEM, turning complicated subjects into delightful, digestible tidbits.
What Kids Learn About
Your kiddos will dip their toes into various STEM concepts, from the magic of electricity to the intricacies of matter, force, and motion. Through fun-filled experiments and activities, they'll develop a lasting curiosity and a deeper appreciation for the marvels of our world.
Recommended Age
5 years and older
Where To Watch
7. Planet Earth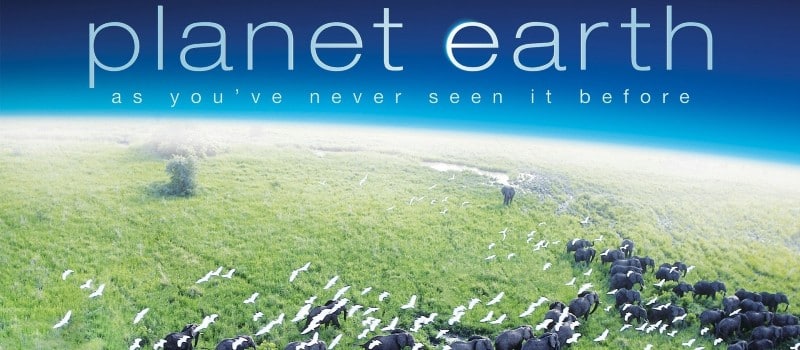 Let your kiddos immerse themselves in the breathtaking beauty of our natural world with Planet Earth, the first TV series captured entirely in high definition. Premiering back in 2006, each episode offers a stunning exploration of Earth's unique habitats. This remarkable British series peels back the layers of the unseen, providing a spectacularly educational and entertaining voyage for our little explorers.
Why I Like This Show
Children will delve into the rich tapestry of Earth's varied ecosystems, fostering an understanding of diverse species and the importance of environmental conservation. All this while being utterly enchanted by the sheer beauty of our amazing planet.
What Kids Learn About
Children will gain insights into Earth's diverse ecosystems, developing an understanding of various species and environmental conservation while captivated by the planet's astounding beauty.
Recommended Age
6 years and older
Where To Watch
8. Octonauts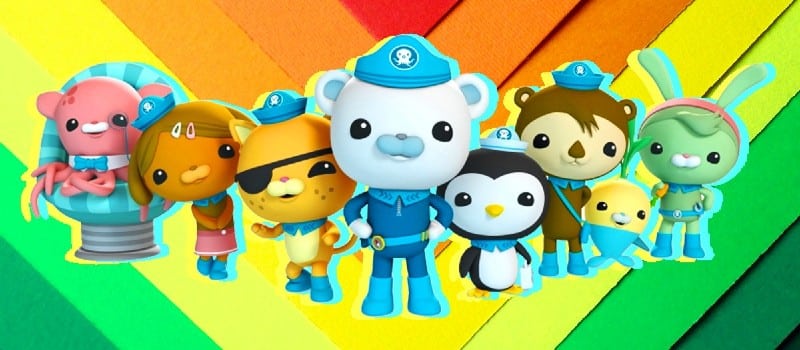 "Octonauts" is a charming Disney Junior show that introduces little ones to the enchanting world of ocean science. The series sails young minds on thrilling underwater escapades with lovable characters, enriching their understanding of marine ecosystems. They'll explore everything from coral reefs to undersea volcanoes while learning about various sea creatures. The "Octonauts" blend of education and excitement makes it a top pick for parents wanting to spark their preschoolers' passion for marine biology.
Why I Like This Show
I find joy in this show for my little one as it introduces the ocean's wonders so captivatingly. It weaves education into adventure, nurturing a deep-seated affection for marine life.
What Kids Learn Abou
Your kiddos will embark on an exciting journey beneath the sea, diving into the diverse marine ecosystems, exploring coral reefs, undersea volcanoes, and the structures of various sea creatures. It's a delightful and educational plunge into the world under the waves.
Recommended Age
4 years and older
Where To Watch
9. Our Planet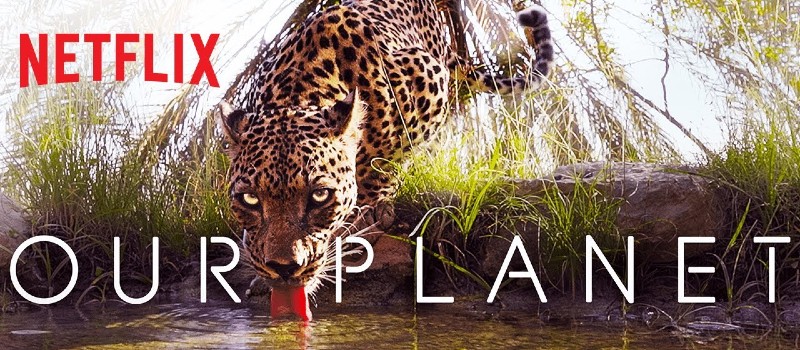 "Our Planet," narrated by the esteemed David Attenborough, is a spectacular look into Earth's awe-inspiring natural spectacles. The show transports viewers across the planet's varied ecosystems, from lush jungles and sprawling forests to freshwater habitats and sprawling deserts. Each episode presents extraordinary footage, offering an enchanting glimpse into our planet's stunning landscapes and wildlife. It's a fantastic choice for parents aiming to spark their children's awe and respect for nature.
Why I Like This Show
I'm entranced by how this series whisks my child on an immersive expedition across Earth's distinct habitats, fostering a profound love and respect for our planet's natural splendor and interconnectivity.
What Kids Learn About
Kids will marvel at the astounding diversity spread across Earth's varied ecosystems. They'll delve into jungles, forests, freshwater habitats, and deserts, growing an appreciation for our planet's delicate balance and incomparable beauty.
Recommended Age
5 years and older
Where To Watch
10. Tiny Creatures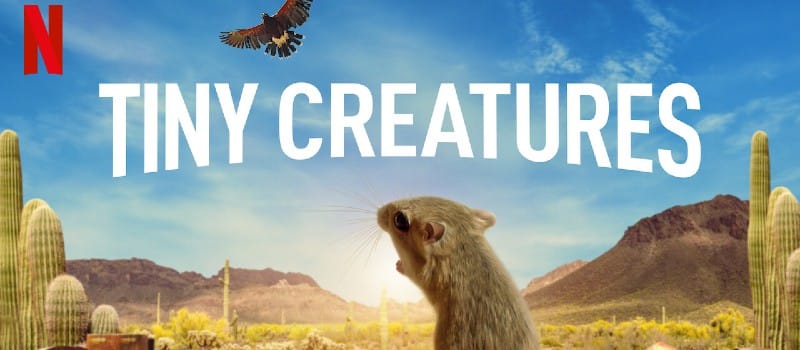 "Tiny Creatures" is a distinct nature series spotlighting the world's little yet mighty critters. Unlike other educational shows, this one celebrates small heroes of the wild, boasting unique 'superpowers' and overcoming diverse challenges. It's a life lesson for our young ones, showing that size doesn't dictate importance. Brimming with gripping content and adorable characters, "Tiny Creatures" is a splendid option for parents hunting for child-friendly science shows.
Why I Like This Show
I hold this show dear for my kiddo, as it highlights the strength and tenacity of nature's tiny wonders, teaching a profound lesson: size never defines ability or worth.
What Kids Learn About
Your kiddos will unravel the animal kingdom from a fresh viewpoint, learning about the unique 'superpowers' and trials of small critters. They'll grow to value the diverse roles these often-underestimated species play in our ecosystem.
Recommended Age
5 years and older
Where To Watch
11. Beakman's World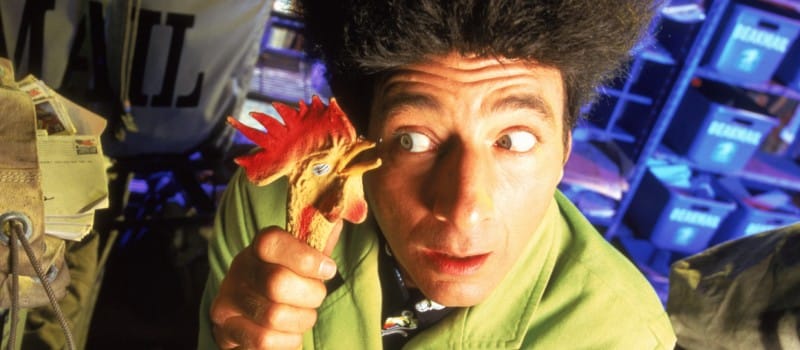 "Beakman's World" is an energetic, hands-on science show that features the quirkily charming scientist, Beakman. This fun-filled program, aired from 1992-1997, weaves comedy into learning. Each episode showcases Beakman performing viewer-inspired scientific experiments, bringing an intriguing and accessible spin to science education. This show is a real winner for parents wanting to ignite their kiddos' passion for the intriguing universe of science concepts.
Why I Like This Show
I cherish this show for my little one as it marries humor and learning, transforming intricate scientific concepts into captivating and comprehensible nuggets, thus nurturing a love for science. It's a fast-paced storyline, and the bright colors keep my son's attention as he learns science.
What Kids Learn About
Your kiddos will uncover various scientific principles through engaging and comedic experiments. The show's hands-on approach will pique their curiosity, prompting them to formulate their scientific inquiries.
Recommended Age
5 years and older
Where To Watch
12. If I Were an Animal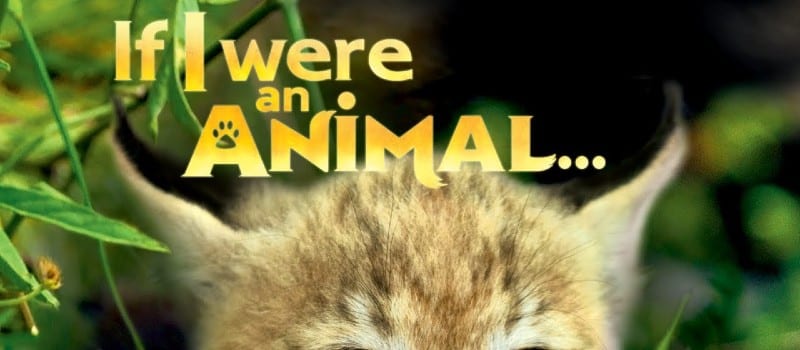 "If I Were an Animal" on Netflix is an enchanting and educational series that whisks your little ones on an intimate journey into the heart of the animal kingdom. Tailored for youngsters aged 2 to 8, this show cleverly fuses delightful animation with awe-inspiring nature footage to give a peek into the life cycles of various animals from their point of view. It cultivates an understanding of creatures while gently embedding biology concepts, making it a fun, insightful, and enriching science show for the kiddos.
Why I Like This Show
I'm head over heels for this show's magical blend of narrative and science. It kindles curiosity while imparting empathy for animals, gracefully nurturing my child's fascination with the great outdoors.
What Kids Learn About
Your littles will glean precious knowledge about various life cycles, grasp the richness of diverse habitats, and learn to put themselves in different creatures' shoes (or paws), kindling their affection for nature and biology.
Recommended Age
2 years and older
Where To Watch
How To Help Kids Get The Most Out Of Science Shows
Isn't it lovely when learning becomes fun, especially with science TV shows? But there's a secret to amplifying that learning.
Parents must ensure these shows aren't just passive screen time. Engaging with our kiddos and turning these shows into active learning experiences can work wonders. Stay tuned to discover how!
Engage With Kids During The Show
Make TV time a shared experience! Spark discussions during commercial breaks or pause to chat about what just happened. Ask, "Why do you think that happened?" or "What could occur next?" Even simple actions like laughing together at a silly moment or expressing awe at a discovery encourage deeper engagement and enrich their learning experience.
Ask Questions And Talk About Interesting Points
While watching a science show with your little one, spark their curiosity by asking thought-provoking questions. For instance, if it's a show about animals, ask, "Why do you think the lion roars?" or for a show about space, you could ask, "How do you think the astronaut stays afloat?" Engaging questions encourage active viewing and foster deep learning.
Conduct Experiments At Home
Ready to have some hands-on science fun at home? You can conduct simple experiments that correlate with the topics explored in the shows. Let's make a homemade volcano during a geology episode or create a tornado in a jar while learning about the weather! It'll bring the concepts to life and spark even more curiosity.
Help Your Little Ones Learn With Great Science Shows!
I hope this guide empowers you to transform TV time into a treasure trove of learning experiences. Remember, selecting the right content—captivating, age-suitable, and enlightening—can morph passive screen moments into vibrant learning adventures.
Science shows offer so much more than just entertainment. They're a doorway to a fantastic world, sparking curiosity and fostering a love for learning. Our little ones can become tomorrow's scientists, explorers, or inventors, and it all starts with a captivating episode!
And let's not forget the magic of turning your living room into a mini-laboratory. Simple home experiments complementing these shows can bring those lessons to life, creating priceless bonding and learning moments.
Here's to harnessing the power of these incredible shows to ignite the scientific spark in our children. Happy viewing and even happier learning!